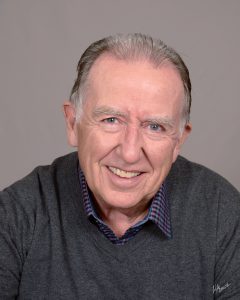 Who Is Patrick E. Craig and why is he smiling?
Amazon Best-Selling author Patrick E. Craig, is a lifelong writer and musician who left a successful music career to concentrate on writing and publishing fiction books. In 2011, Harvest House Publishers published his Apple Creek Dreams series—A Quilt For Jenna, The Road Home, and Jenny's Choice. In 2015-17 he published The Amish Heiress, The Amish Princess, and The Mennonite Queen (which was a Chanticleer International Book Awards Semi-Finalist), as well as the reprinted Apple Creek Dreams through his own imprint, P&J Publishing. In 2017, Harlequin Publishing purchased The Amish Heiress for their Walmart Amish series. Patrick and co-author Murray Pura have published two World War II novels, Far On The Ringing Plains and The Scepter And The Isle. The third book in the Islands Series, Men Who Strove With Gods, will be released April of 2022. They also collaborated on two anthologies of Amish stories written with Willard Carpenter, Jerry Eicher, Thomas Nye and Amos Wyse. The Amish Menorah and Other Stories and A Christmas Collection (which was a 2021 Selah Awards Finalist), are published by Elk Lake Publishing. Murray and Patrick also released an anthology of short stories, Beyond The Red Hills, which ties together the Islands Series and their upcoming Jungles Series, a three volume literary fiction based in Vietnam, Laos and Cambodia during the Vietnam war.
Patrick has also published two books in his YA mystery series, The Mystery of Ghost Dancer Ranch and The Lost Coast. He recently released a creative non-fiction memoir about coming of age in the high mountains titled Say Goodbye To The River and his latest, The Gettysburg letter, was released April 1.
 Patrick has an extensive background as a writer. Throughout his school years he edited high school and college newspapers. In 1964 he won a national editorial contest sponsored by the Wall Street Journal for an editorial he wrote on the death of President Kennedy, and, in the same year, acted as Senior Editor for a special issue of the University of Washington Evergreen during a summer internship for High School Editors. After a year at Whitman College, where he was a journalism major, he moved to the San Francisco Bay area where he became a fixture on the local music scene.
As a professional songwriter, he wrote with and for such artists as Bill Champlin (Chicago), David Jenkins (Pablo Cruise), Buddy Miles, The Tazmanian Devils, and many others in the secular music industry. His songs were recorded by such artists and music groups as West Coast Natural Gas, Indian Pudding and Pipe, Joey Covington's Fat Fandango, The Sons of Champlin, The Tazmanian Devils, Buddy Miles, David Jenkins, Laura Allen, The Fairfax Street Choir and in Europe by the Swedish Band Seid. He had two music albums released on Warner Brothers records, and contributed to best selling albums by artists such as Chris Isaak and others. Recently a compilation of his early work was released in Switzerland as a specialty music album.
Patrick and his wife Judy live in Idaho. They have two daughters and five grandchildren.
Patrick's books bring enduring characters to life

If you love romance and adventure combined with a clear presentation of the gospel…

FInd more of Patrick's books

here

Subscribe to Patrick's Mailing List