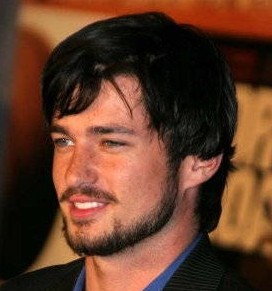 As she watched the coffin leave, Jerusha felt herself winding up like a spring.  Breathing hard she leaned forward and slowly stood to her feet with her elbows bent and her fists clenched.  Just as she was about to scream the name of her grandmother, a firm hand took hold of her shoulder and she heard a quiet voice say in her ear, "Don't."
Jerusha turned slowly and saw the chest of someone very tall.  She lifted her head and looked into the bluest eyes she had ever seen.  Dark, long hair framed a face that was remarkable in its symmetry and strength.
"I know that you want to scream, but don't," he whispered.  "My mother died last year, and I wanted to scream at her funeral too.  Believe me, now is not the time."
In the grip of his strong hand, Jerusha felt the tension and anger drain out of her, to be replaced by an empty, aching sorrow, and then she found herself walking slowly along with him out to the grave. The bishop who led the funeral went ahead of the mourners to the graveyard.  When all had gathered beside the gravesite, he gave a final prayer and the pallbearers closed Grandmother's coffin for the last time. They placed ropes under the coffin and used them to lower the coffin into the ground.  Members of Jerusha's family stepped forward and each threw a small sod of earth onto the coffin.  Jerusha stood a long time with the dirt in her hand before she dropped it into the grave.  When the clod hit the top of her grandmother's coffin it sounded like a door slamming.  A knife twisted in her heart as in that moment she came to grips with the reality of death and its finality.  A tear that she could not stop ran down her cheek as she stepped back into the crowd of people.  As the mourners watched, the pallbearers filled in the grave.  And then it was all over.  There were no flowers or foliage near the grave.  The plain tombstone lay on its side, waiting to be set in place.
Hannah Hershberger, 1862-1941, 79 years, 2 months, 5 days.
         That was the summation of her Grandmother's life.  It seemed not enough.
She served you so well, and now she lies in a hole in the ground, and not one word from her God or her friends!
         Jerusha wondered at her thoughts and her feelings.
What is happening to me?
         As she slowly walked back to her father's buggy, the young man that had stopped her from crying out stepped in beside her and spoke to her.  The sound of his voice was rich and masculine and she suddenly felt herself blush and found it very strange.  She plucked up her courage and looked into those startling blue eyes.  They were still smiling at her and then she heard his words coming to her as though from a long distance away and slowly she realized what he was saying.
"I'm Reuben Springer, and you're the girl that makes those quilts," he said.  Then he turned and walked back to the road.